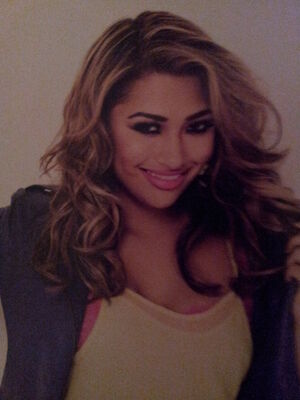 Vanessa Karen White (born 30 October 1989) is an English pop singer and songwriter. She rose to fame in 2008 as a member of English/Irish girl-group The Saturdays. She is the youngest member of the band.[1]
White was born in Yeovil, Somerset.[2] Attracted to performing from a young age she attended the Sylvia Young Theatre School on Saturdays before being offered a full time place and moving to Stratford, London with her family when she was five.[3][4] She applied for The Brit School, but was turned down. She appeared in several theatre productions, including the West Endproduction of The Lion King as Young Nala and also played one of the King's daughters in The King And I from 2000-2002.[5] She has a brother, Ryan, and a younger sister, Celine.[6]
[edit]2007-present: The SaturdaysEdit
Having already been signed as a solo artist White auditioned for, and was accepted as, a member of a newly-formed girl group in 2007. She gelled quickly with the four other members who now refer to her as "our Christina Aguilera" due to her extensive vocal range. Initially, White and band member Una Healy had the strongest relationship, as they discovered that they were very alike. However, she has grown to love the other members all the same.[7] She has also received comparison to American singers Alicia Keys, Beyoncé and Mariah Carey.[1][8]
During June and July 2009, White toured the UK with The Saturdays (The Work Tour). Before she was about to go on stage for the second show of the tour in Dundee, White tripped over a cable backstage and tore a ligament in her ankle and missed a large proportion of the show that night. Once paramedics had strapped up her foot, she was permitted to join the band on stage in a wheelchair. White spent the next few shows appearing on stage sitting on a bar stool and gradually began to stand for more and more songs as the tour progressed, before being able to perform her choreography again.
White is the only member of The Saturdays to feature in every song in their debut album,Chasing Lights.
Along with the other members of the group, White has co-written a track on their second album,Wordshaker, titled "Deeper". It was written in a two day studio session.
[edit]Solo releases and appearancesEdit
White provided additional vocals on Master Shortie's debut album A.D.H.D. on the track 'Swagger Chick'. The album was released on the 27 July 2009. In January 2010, White participated in the first series of the ITV celebrity reality television programme Popstar to Operastar. She was the second contestant eliminated, on 22 January. White took part in and was compressed into a box so that it appears only her head, hands and feet are there on Stephen Mulhern's Magic Numbers.[9]