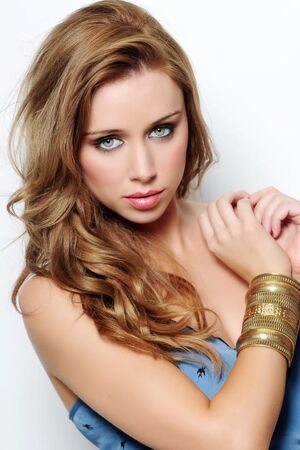 Una Theresa Healy (born 10 October 1981) is an Irish singer-songwriter and musician, best known for being one fifth of girl group The Saturdays. Prior to joining the group, Healy released a solo studio EP, Sorry, which was self-written and self-produced.
Early life
Edit
Una Healy was born in Thurles, Ireland to Anne and John Healy, a nurse and a GP. She has a sister, Deirdre.
Healy comes from a musical background and is the niece of country singer Declan Nerney.She is a cousin of Irish athlete Paul Hession.
At 13, she gave up swimming (she was an All-Ireland champion swimmer at 9) and decided to teach herself to play using her mother's guitar and from then on began to write songs of her own.
After finishing school at 18, she decided to take a year out and became a medical secretary, and from then went on to study nursing and then primary teaching, but decided finally to go ahead and pursue her music passion at 23 years old. She began her music career playing guitar and singing in pubs and clubs around Ireland, solo and in bands.
Whilst she was slowly finding success in her native Ireland as an indie solo artist, she felt she didn't have a firm direction in her career. Therefore, in the summer of 2007 she flew over to London to gain more exposure and experience and landed an audition for The Saturdays, which was her first audition for a major label and abroad.
Healy won Ireland's Glinsk Song Contest in both 2004 and 2006, and her self-produced EP, "Sorry" was released in 2006.
She represented Ireland at the Eurovision Song Contest 2006 as a backing singer for Brian Kennedy on "Every Song Is a Cry for Love".
[edit]2007-present: The SaturdaysEdit
Healy has been a member of the girl group The Saturdays. The band have enjoyed eight top ten hits, and three top ten album hits The girl band released their first debut single, "If This Is Love" in July 2008, where it peaked at number 8 in the UK. The band released a second single "Up" where it charted at number five in the UK, and later the song enjoyed a certification of Silver in the United Kingdom. In late October 2008, the band released their first studio album, Chasing Lights, where it charted at number nine in the UK, and also achieved a certifications of Platinum by BBI. The band released a third single from the album, "Issues", which also received a silver certificate by the BBI. The Saturdays released a cover of "Just Can't Get Enough" by Depeche Mode; the song debuted at number 2 in the UK, behind Flo Rida's "Right Round". The fifth and final single from the album was "Work", which was the first single by the band to not reach the top 20. The band later went on a tour titled "The Work Tour."
In October 2009, the band released a second studio album, Wordshaker, which charted at number nine in United Kingdom and was given a silver certification by the BBI. The first single, "Forever Is Over", charted at number two in the UK. The Saturdays appeared in advertisements for several products including a brand of deodorant, tampons, mobile phones, an operating system, and hair removal products.
But in early 2010, the band released a second and final single from their second debut album, "Ego", which charted at number nine. Although the song became the second lowest single to chart by the band, it became one of their highest selling singles[specify], after getting a certification of silver by the BBI.
In summer 2010, the band released their first mini album, their third album overall, Headlines!, which charted at number 3 in the UK and number 10 in Ireland. The band released their eighth single, "Missing You", which charted at number three in the UK and number six in Ireland. Rochelle Wiseman confirmed that the second single from the album would be "Higher" After Flo Rida beat the group to number one for the second time, the American rapper offered to do a collaboration with the band. It was later confirmed, by the band's official website thatFlo Rida had recorded vocals for "Higher".
Main article: The Saturdays discography===[edit]Extended plays===
Healy won "Hottest Female 2009" in the Virgin Media Music Awards. She was ranked number 19 and number 41 in FHM's Sexiest Women poll in 2010 and 2011.[12]
Healy is engaged to England national rugby union player Ben Foden. On 16 September 2011, Healy announced she is pregnant and will still be going on tour in December 2011. On 7 November 2011, Healy and Foden revealed that she is expecting a baby girl. On 13 March 2012, Una Healy gave birth to a baby girl, Aoife Belle Foden, the couple's first child.